Canberra's Pialligo Estate restaurant goes up in flames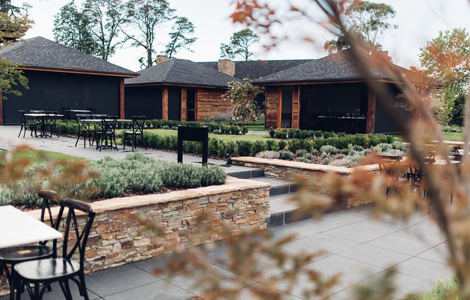 Canberra's Piallago Estate Farmhouse Restaurant building was completely destroyed last week by fire.
The fire broke out last Thursday and saw staff looking on as emergency crews used aviation appliances from Canberra Airport to contain the flames with multiple crews spraying water on the structure.
It all happened shortly before 4.30pm with authorities warning the public of large amounts of smoke in the area. 
Staff were evacuated from the Kallaroo Road building.
The intensity of the flames actually stopped fire crews from getting access to inside the Farmhouse building.
The fire was so fierce that significant sections of the roof collapsed. 
Commander Mark Phillips from the ACT Fire and Rescue said multiple fire trucks had to be called in to contain the blaze.
That was in addition to Aviation Fire & Rescue appliances from nearby Canberra Airport and ACT Rural Fire Service crews. 
At the same time, aerial unit was fighting the blaze from above.
What complicated the fire fighting efforts was an explosion from an attachment on the south-eastern side.
The fire took hours to contain and it was brought largely to ground level by 9.30pm.
But by then, the roof of the main part of the building had completely collapsed.
"It was very, very intense," Commander Phillips told the Canberra Times.
"The fire was fanned by quite a strong west-northwesterly wind. It was blowing into the open side of the building and that made fire fighting operations very difficult."
He said nearby buildings and refrigeration units had been protected. 
"The information our crews received on arrival was that all persons had managed to self evacuate," he said.
Crews remained overnight on Thursday and an investigation began on Friday to find out what caused the fire.
At this stage, there don't appear to be any suspicious circumstances. The cause of the fire at the moment is unknown.
It is the second time in less than two years that the business has gone up in flames.
In July 2017, the Hume smokehouse facility was destroyed by fire.
by Leon Gettler, Octber 13th 2017